Le Bar 1721 in Saint-Martin-de-Ré
Open to non-resident clients
Le Bar 1721 opening hours
Open every day from 4:30pm to 11pm
A sophisticated lounge bar in an exceptional mansion
Sit yourself down inside or outside, on the loungers in the sun or on the comfortable cushions in the cool shade of the building. The lovely peaceful Le Bar 1721 has something for everyone.
Away from the hustle and bustle of Saint-Martin-de-Ré Port, the bar at La Baronnie Hôtel & Spa**** is a sophisticated spot to relax at the very heart of this 18th-century residence.
The cosy decor is elegant but never ostentatious, with red leather armchairs and light wood furniture. On the right, there is an extensive lounge with comfortable sofas contributing to the bar's distinguished convivial feel. A large television is used for film nights and sports events. At the back of the room, double doors open onto the stunning gardens full of hundred-year-old trees and overflowing flowerbeds.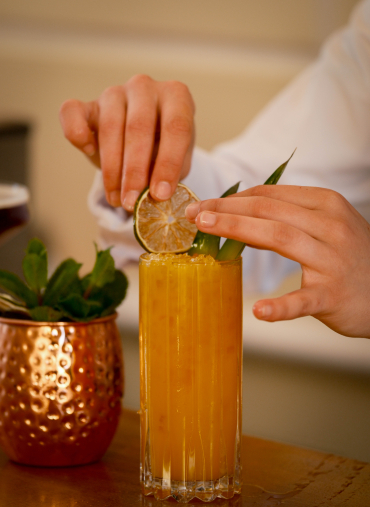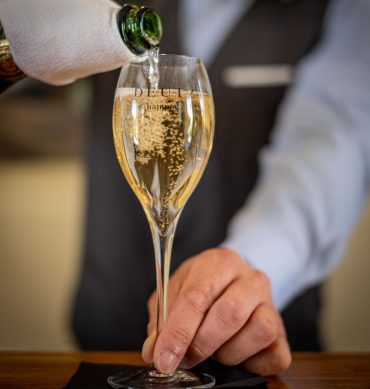 Unique bar in Saint-Martin-de-Ré
Connecting the inner courtyard, terrace and garden, the hotel lounge bar is a discreet and welcoming place whose individuality makes it a joy to return to. The bar is called Le 1721 to reflect the site's rich history and has an intimate feel with its own unique charm. Surrounded by orange trees that give off a heady scent, the bar warmly welcomes connoisseurs, travellers passing through and locals who love its authenticity.
Private bookings at Le Bar 1721
Le Bar 1721 can be booked out for private events.
Menu at Le Bar 1721 in Saint-Martin-de-Ré
Cold drinks
ALCOHOLIC DRINKS*:
Traditional aperitifs: selection of whiskey, bourbon, port, martini, cognac, vodka, gin, pastis and beer from Île de Ré.

DON'T MISS – Tastes of our local region Charente-Maritime and of Île de Ré:
– Cognac XO Île de Ré (aged for 10 years)
– Vieux Pineau des Charentes "heure d'été" (aged for 5 years)
– Pastis de l'Île de Ré
– La Blanche de Ré beer and La Blonde de Ré beer

Deutz champagne
Spirits, liqueurs and other after-dinner drinks
Classic and original cocktails made by our talented bar staff
Wine: selection curated by the owners of La Baronnie Hôtel & Spa****, who are passionate about wine. The menu includes wine from Bordeaux, Provence, Bourgogne and the Loire and the bottles are kept in the hotel's incredible 18th-century vaulted wine cellar.
NON-ALCOHOLIC DRINKS:
Mocktails
Monin syrups
Fizzy drinks
Mineral water
Patrick Font fruit juice
*Drink alcohol in moderation.
Hot drinks
Nespresso coffee
Dammann teas & herbal teas
Hot chocolate