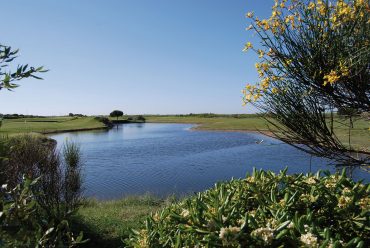 The Golf at Ile de Re
Île de Ré has it all. Golfers will want to head to Golf de Trousse-Chemise at the end of the island, a great nine-hole golf course with a picture-postcard setting.
Golf on the Île de Ré
An oceanic climate with mild temperatures all year round – neither too low nor too high – plenty of sunshine, moderate winds, and unspoilt natural landscapes… Everything it takes to make the Île de Ré a unique place to play golf.
Trousse-Chemise Golf Course
From La Baronnie Hôtel & Spa****, follow the road to the end of the island. La Couarde, then Ars, Saint-Clément des Baleines… Pass the last village of Les Portes and then you'll see Le Bois de Trousse-Chemise wood and La Patache. You're nearly there. In the background, you might see the mast of a yacht sailing the calm waters of the Le Fier d'Ars. It is in this exceptional natural setting that you are about to explore the 2,500 metres of the Trousse-Chemise golf course https://www.golftroussechemise.com. A total of 9 holes perfectly integrated into the landscape of land and sea. Beautiful, well-kept greens, the salty smell of the ocean, a flock of wild ducks and seagulls in flight, a light wind… The alchemy is magical. There's even more magic when you play at sunrise or sunset as the light plays on the Lilleau des Niges marshes, with the bird reserve right next door. It's so beautiful you'll almost forget to avoid the bunker!
As for the course, water obstacles, bunkers and the design of the greens and fairways create a very enjoyable and pleasant game of golf.
The Trousse-Chemise golf course offers a practice area – on marshland – with a putting green specifically designed so you can work on your approach. And if you need anything, you have access to the golf course's pro shop. For more convenient play, it also includes a bunker approach and exit area.
And when you have successfully reached the ninth and final hole, you can enjoy a refreshing drink in the club house, analyse the round with your golfing buddies, as well as enjoying the enchanting scenery of the Île de Ré.
The Trousse-Chemise golf course is open all year round and organises a variety of competitions every month which are open to players at every level, some of them sponsored by famous brands such as the Veuve Clicquot champagne house.
If you're spending a weekend or a whole holiday at La Baronnie Hôtel & Spa****, you can combine sport and relaxation on the Île de Ré's golf courses.
You'll find any additional information you need at the hotel's reception where you can also book a game or hire equipment.
Characteristics: PAR 35 – 2,500 metres
Golf courses near the Île de Ré and La Rochelle
Golfers who want to take on an 18-hole course will need to return to the mainland and head for Marsilly which is less than 15 minutes south of La Rochelle. There, La Prée https://www.golflarochelle.fr offers a superb course comparable to traditional Scottish links, with a magnificent panoramic view of the ÎIe de Ré, opposite, and over Aiguillon Bay. Given its environment, the course designed by Olivier Brizon combines the features of a seaside golf course with those of an inland golf course and offers a variety of landscapes. Your round will take you through the 5931 metres combining the ocean, marshland and streams and will involve a wide range of shots depending on the different fairways. With several or no bunkers at all, some wide and some narrow… There are plenty of surprises in store to challenge your skills. But whether you are a seasoned golfer or an enthusiastic beginner, remember the breeze is always lying in wait, to alter the final precision of your shot!
Characteristics: PAR 72 – 5,956 metres
If you want to practise or perfect your swing before booking a round at La Prée, Le Pertuis driving range, in La Flotte-en-Ré, is just a few minutes away from La Baronnie Hôtel & Spa****. You can also take private or group lessons there https://www.swingnaturel.com, depending on your level of skill and objectives.