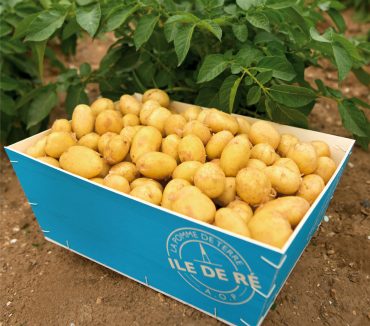 Gastronomy of Ile de Re
Île de Ré is known for its many foodie delights. The most famous are protected AOC potatoes, Pineau fortified wine, oysters and fleur de sel. But the island also has some other incredible produce from the land and the sea up its sleeve...
A collection of local products and specialities from the Île de Ré
The incredible harmony between the land and the sea, the mild oceanic climate and all-year-round sunshine create the rich and varied terroir of the Île de Ré. Seafood, PDO potatoes (since 1998), natural salt, vines… A host of authentic, high-quality products that create the thousand and one flavours you'll enjoy during your stay at La Baronnie Hôtel & Spa**** or that you'll pack in your suitcase so you can enjoy some of these exquisite treats at home.
The standout products of the Île de Ré
Land
Their names are Alcmaria, Charlotte and Léontine. These are the three varieties of PDO new potatoes grown on the île de Ré that flourish in the soil, to the delight of foodies of all ages in spring every year. With their unmistakeable fine skins and unique tenderness, our potatoes are best enjoyed simply. The smallest ones, known as grenaille, can be enjoyed lightly browned with a little knob of Charentais butter and a few grains of fleur de sel… They're a joy to eat. Beginning in the 18TH century, the delicious story of the Île de Ré and the new potato is still equally mouth-watering today.
Vines have formed part of the landscape and history of the island since the 13th century. The shoots definitely benefit from the favourable climate and chalky, sandy soils. This is how the island's wine-making expertise has been forged over the centuries. Today, the grape varieties used for red wines are Merlot, Cabernet Sauvignon, Négrette and Cabernet Franc, and for white, Chardonnay, Sauvignon Blanc and Colombard, ideal for accompanying fish and shellfish. As for the Pineaux des Charentes and Cognacs, they will enliven your aperitifs and parties. You can enjoy them at Bar 1721 at La Baronnie Hôtel & Spa****. Alternatively, head to the Cooperative at Bois-Plage or Domaine Arica in La Couarde-sur-Mer.
Since 1996, Bières de Ré beers have been enhancing the island's gourmet offering. White, blonde or amber with an organic version too, they are developing new and natural flavours. Serious beer drinkers are sure to want to try some of the brewery's other beers: L'Abeiile made with local honey, La Triple made with three hop varieties and La Déferlante with its very distinctive flavour.
The newest arrival, Pastis de Ré is the result of a subtle blend of organic herbs, liquorice, and not forgetting the locally harvested fennel, which is easily recognisable by its yellow flowers and aniseed notes. It offers the guarantee of sunny summer evenings and drinks parties.
Sea
Seafood products occupy a prominent place in the island's lifestyle. There are clams with a subtle nutty taste, razor shells that are great fun to forage for in the sand, and velvet crabs known for their paddle-like back legs. There are also oysters which are more or less fleshy depending on the season and in sizes 1, 2, 3, 4 to satisfy every taste, from the open sea or refined in oyster beds, known as 'fines de claires'. Oysters can be enjoyed anytime and anywhere, but always supplying that unmistakable, fresh salty tang of the sea. On the terrace of a restaurant on a quayside, in a hut of producers such as Les Copains Bâbord and La Cabane Océane in La Flotte, La Ferme des Baleines in Saint-Clément, etc. Buy them from market stalls before sharing them cold or hot with friends, and why not on your favourite beach at sunset? Whatever the occasion, it's always a 100% natural pleasure to accompany them with a glass of white wine from the Île de Ré*.
Bouchot mussels from the Charente-Maritime are also an essential ingredient in the island's restaurants. Mouclade with Pineau des Charentes is a classic!
Less known but equally delicious, samphire and edible seaweeds offer a real feast of local flavours. Samphire grows in the salt marshes and brings the tangy taste of the sea along with an inimitable crunch to dishes. The seaweed is reminiscent of the amazing bounty of the sea. It develops unusual flavours and inspires chefs to create new dishes – stunning and a must to be discovered at Algorythme based in Ars-en-Ré. The Estancia Bel-Air in Loix grows herbs using a totally natural approach. All your senses will be awakened.
None of this would be possible without salt, the commercial harvesting of which dates back to the 15th century. Today's 'sauniers' carefully tend this white gold which they harvest from the 400 hectares of salt marshes. It is 100% natural, neither refined, treated or washed. Salt can be coarse and grey, or fine and white, but the cream of the salt pans is the famous Fleur de Sel. It brings a delicate flavour hit to both sweet and savoury dishes. You'll find it just about everywhere on the island, at La Coopérative des Sauniers in Ars, and you can even help yourself from the edge of a cycle path!
*Please drink responsibly.
Your gourmet hamper
A whole host of great products from which artisans and gourmets create a wonderful range of sweet treats.
Jams: there are those made by Lydie who has a shop in Le Bois-Plage. They'll bring touch of magic to your morning toast. La Baronnie Hôtel & Spa**** has partnered with Melgie to develop an exclusive, organic recipe: strawberries and wild blueberries (90% fruit).
Honey: L'Abeille de Ré produces and harvests six honeys presented in its Loix shop.
Salted butter caramel from the Île de Ré: a sweet that you could never tire of!
Ice cream and sorbets:La Martinière is the place to go. You'll find all the artisan ice-cream maker's flavours in Saint-Martin, at Le Phare des Baleines, in La Flotte, in Sainte-Marie and at Le Bois-Plage.
Biscuits: head for La Biscuiterie de Ré in Sainte-Marie where you must try their local shortbread, Charentaise galettes, crisp biscuits, cakes, brioches, etc.
Chocolates: Ile de Ré chocolats a treat for your taste buds.
You'll find these island delights on the breakfast table at La Baronnie Hôtel & Spa****.