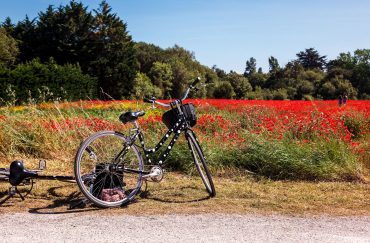 Biking at Ile de Re
Île de Ré is a cycling paradise with 85 miles of bike trails. The best way to visit the island is by bike, either on your own or with family or friends. There are lots of routes along the coast as well as through the woods and vineyards.
A long love story
Carefully leant against a tree on the edge of the beach at Gros Jonc in Bois-Plage, casually left while the rider buys some fruit at the market in Ars, in front of a restaurant, or a house where they stop to say hello. Parked in the narrow streets of Saint-Martin lined with hollyhocks in summer, beside a landing stage in the ports of Ars or La Flotte, left in the grass on the side of a cycle path to quietly observe the flight of a little egret or a white swan in the nature reserve at Lilleau des Niges or right in the middle of the marshes between the villages of Saint-Clément des Baleines and Les Portes… Bicycles are everywhere on the Île de Ré From morning to evening and from evening to morning, the bicycle is part of the lifestyle of Ré la Blanche throughout the year.
So don't be surprised to see bikes of every colour and type. Little ones for children and those who travel light, tandems for lovers – but also – slightly dented bikes marked by time and the effects of the salty air with a small crate fixed to the luggage rack to hold fresh bread in the morning, fruit from the market, a sarong and a book for the beach in the afternoon, a few dozen oysters for dinner with friends in the evening and a bottle of Rosé des Dunes! There are also electric bikes, useful when you have to pedal into the wind – a common occurrence on this island where the wind blows this way and that, depending on the day's tides… There's a bike for everyone and every style; all you have to do is choose yours.
Cycle paths on the Île de Ré
Everything for bikes
The Île de Ré is definitely bike-friendly. To ensure that all cyclists can get around easily, it has an extensive network of particularly well marked and secure cycle paths. In total, more than 138 km of trails allow you to explore the island safely. From Rivedoux as you come over the bridge, to the Bois de Trousse Chemise at the other end of the Île de Ré, via La Couarde, Le Bois-Plage, Loix and all the other villages, you can cycle from south to north and from east to west almost without interruption. Just follow the signs – thus avoiding sections of road – and follow the rules of the highway code.
Cycle safely
To do this, you'll find a very detailed map of cycling trails http://www.iledere-infos.fr/carte-des-pistes-cyclables-de-l-ile-de-re-12-40-76.html along with estimated journey times between the ten villages of the Île de Ré. It will be invaluable when planning your itinerary for a day of discovery and organising each stage. Which beach will you go to, when will you take a break and enjoy a wonderfully refreshing ice cream in summer or a lovely hot chocolate when the weather is cooler? Unless you prefer to go where the fancy takes you and take a random side road! It is the charm of the unexpected that awaits you at the corner of a little street or cycle trail… the fun often comes when you're least expecting it.
A 'Sécu-Rétais' safety guide is also available just about everywhere – tourist desks in every village, major tourist attractions, bicycle hire businesses. As well as cycling information points in summer. Here are some golden rules of good behaviour and common sense: take care at crossroads and respect priorities, cycling helmets are mandatory for children, the use of mobile phones is prohibited and will result in a fine. And of course, don't forget to enjoy the scenery, and simply take your time.
For your convenience, La Baronnie Hôtel & Spa**** has selected a cycling partner, Yootoo a few metres from the hotel, who will offer you a discount on your bike hire. Then, all you have to do is choose the bike that's right for you, head out from Saint-Martin-de-Ré and enjoy the simple and genuine pleasure of cycling on the Île de Ré.